Countryside Stewardship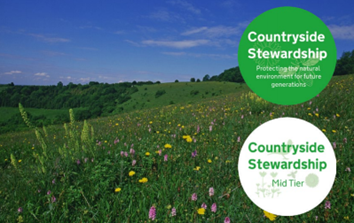 Applications for Countryside Stewardship (CS) Mid Tier including Wildlife Offers are now open and close on 29th July 2022.
The Webinar delivered on 31st March 2022 provides information about the scheme and how to prepare a robust application for an agreement, to benefit local environments and farm businesses.
The webinar covers scheme changes for agreements commencing 1st January 2023, how the scheme works, eligibility and how to find out about local area environmental priorities. Land management and capital grant opportunities through the scheme are also highlighted.
We have also attached Questions and Answers raised at the webinars by attendees, which provide further clarification on specific points of interest.
Free Online Sessions
Natural England, on behalf of the Rural Payments Agency, are providing free online one-to-one sessions to help the development of a high quality application. Chris Seabridge & Associates Ltd are delivering these sessions for farmers and land managers in the following counties:
East Midlands
Derbyshire,
Leicestershire,
Lincolnshire,
Nottinghamshire,
Northamptonshire.
West Midlands
Herefordshire,
Shropshire,
Staffordshire,
Warwickshire,
Worcestershire.
For support and advice in other areas please visit https://www.gov.uk/government/publications/farm-advice-support-for-countryside-stewardship-cs-mid-tier-2022-applicants
These advice sessions will be delivered remotely via an online teleconference facility or telephone. To get the most out of a one-to-one session, it is advisable to have access to a computer with internet capabilities. The free one-to-one session will last up to 1hr 30mins with an experienced adviser who will provide guidance on the most suitable Mid Tier options for your farm and how to complete your application. It is helpful if you have an idea of what you want to achieve with your application prior to your session.
Please note that these sessions are subject to availability and based on demand
To request a one-to-one, please fill out the form by clicking here
You will be asked for your name, address, contact telephone number, email address, farm SBI and CPH numbers when booking.  We will then contact you with a convenient date and time for your session.  If you are unable to fill out this form, you can call 07593 449868 or email bookings@chrisseabridge.co.uk.